Want to optimize your O&M strategy and establish a winning Asset Management approach?
Wind Energy Update is a trading name of FCBI Energy Ltd, Registered in England and Wales - company registered number 09823824 - 7-9 Fashion Street, London, E1 6PX, UK. © 2016 FCBI Energy Ltd. All Rights Reserved. | Terms and conditions
Request information from the organizers below:

Simply let us know who you are below and we'll contact you with announcements as they happen
Join us at Wind O&M Dallas for interactive assessments as to how to do this from US owners of different sizes
2017 sees the 9th Wind O&M Dallas return and with more owners and their teams involved than ever before, this is one edition you cannot afford to miss! Here is why…
Rethink turbine reliability: Gain exclusive insights on how you can optimize O&M resources to enhance reliability, avert major failures and slash turbine downtime
Asset & Risk Management: Learn how to maximize wind revenue, increase AEP, eliminate major operational risks and evaluate the future of wind generation
The Pursuit of MWs: Understand how market & policy forces will reshape the way you build wind revenue, and learn what market leaders have done to achieve sustainable growth in renewables
Fill out your details on the right hand side to have the brochure sent straight to your inbox so you can review the meeting and see what you could get out of it for your 2017/18 strategy!
Speakers include: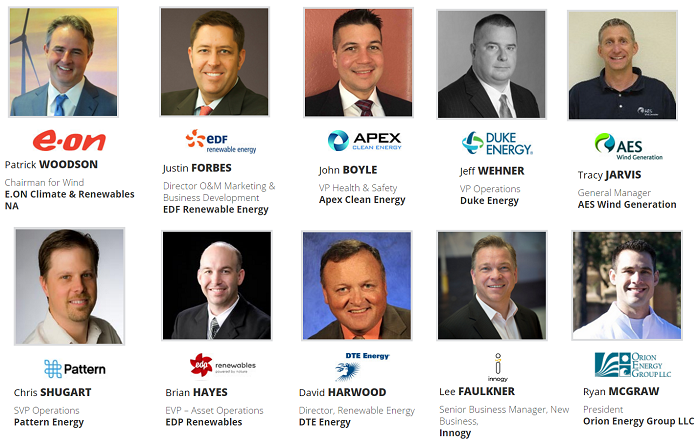 If Wind O&M Dallas looks like the meeting for you then you'll be pleased to know there is a discount code inside the brochure that will give you access to a special rate for your ticket!
Latest Wind O&M Dallas News:
WECS, Leeward Energy, AES Wind Generation, Algonquin Power, Pattern Energy and Cook Power Services tackle the biggest BoP issues: Deep dive into lifecycle and maintenance BoP. Understand how to identigy design issues in older plants and review common failure examples between environment and poor installation so you can take the financial edge out of costly repairs
Owner attendance like never before: ON, EDF, Apex Clean Energy, Duke Energy, AES and more send senior execs to share experiences on stage and bring the teams behind them to disseminate it on the exhibition floor
Workshops for asset owners run by asset owners: Back by popular demand, the owner-operator workshop and networking day ensures you get the face time with your asset owning peers that allows for crucial knowledge exchange in an informal setting
Defining asset management: Navigate your asset management strategy with other owners of US and European onshore wind assets. Understand what asset management means for a US market and how we as an industry can take ownership of it with the brand new Asset Management track.
If you have any questions at all, please do contact us directly.